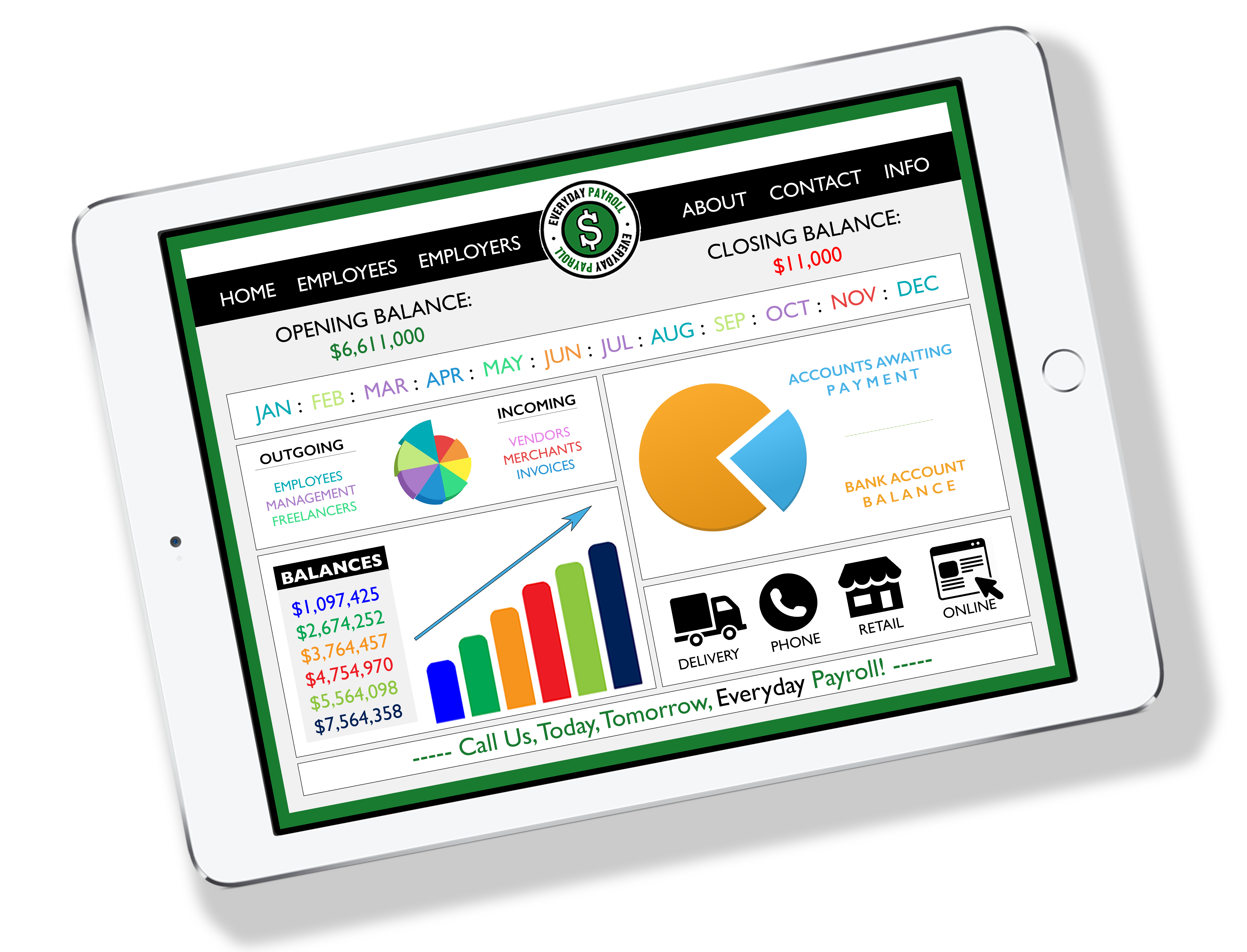 #EasyPay
Everyday Payroll = Easy Payroll
Payroll that was made with "ease" in mind. We setup and manage your payroll for your small business, no contracts, no strings attached.
One Company, Two Options!
We Believe In Keeping It Simple!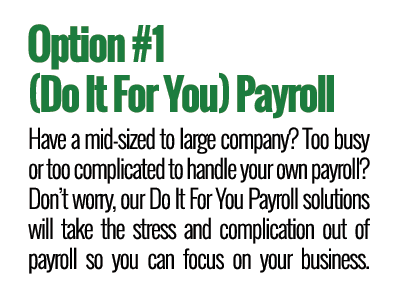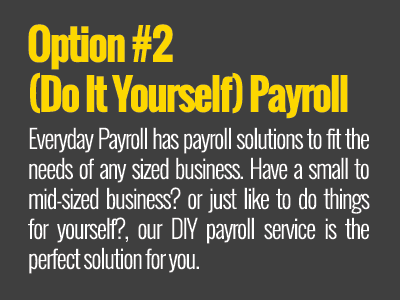 Why Everyday?
Everyday Payroll was born to help you handle all your companies payroll needs. We believe in keeping it simple. You will always have your own account rep who will be familiar with your personal needs. We will meet all deadlines and file all forms and tax returns timely.
Accuracy & Dependability
Everyday Payroll will accurately compute your payroll and taxes for your entire workforce. We understand how important it is to pay your employees accurately and on time.
Absolute Efficiency
We will take the payroll burden away from you, allowing you to put your focus back on what matters most, your business.
Professional Staff
The Everyday Payroll team consists of dedicated staff including CPA'S, Accountants, Bookkeepers and highly experienced payroll specialists.
SIMPLE, QUICK, EASY SETUP
Get started now by following these four simple steps below.
SIGN UP
Enter your email, contact information, and password.
COMPANY SETUP
Tell us about your company, employees and payroll information.
SCHEDULE
Choose and confirm your first pay date.
PURCHASE
Complete set up by submitting your payment information.
Frequently Asked Questions
How can employees view their pay and tax statements?
After you've setup your account, employees will be able to register with everydaypayroll.com to get convenient, safe and secure access to their paystubs and tax statements.
How do I pay my employees?
Follow these quick and easy 5 Simple Steps

Sign in to your account on EverydayPayroll.com

Click on the "RUN Payroll" icon

Enter employee hours worked, and/or verify the salary information for your employees. Our system will automatically calculate the breakdown of net/gross pay as well as the taxes

Set the check date so our system knows when to send the direct deposit directly to your employee's bank account

Select "Process Payroll"
What is included in Everyday Payroll's "Tax Filing Service"?
Our payroll platform was designed with compliance in mind. We will make sure that local payroll tax laws are followed. We will calculate, file and deposit local, state and federal payroll taxes.
Who can I contact for assistance?
If you are OCD like us, you know you want to make sure everything is handled properly. Don't worry, we've got you covered. You will have your own personal account rep available to help you.
How much does this service cost?
New subscribers will get the first month free, contact us for a quote based on the size of the payroll and your needs. Once given a quote there are no hidden charges or additional fees. Your pricing will only change if your situation changes.
How often can I pay my employees?
You can process as many payrolls as you need, and have multiple pay frequencies (weekly, biweekly, monthly, semi-monthly).
What is this service?
New Business? Existing business looking to unburden yourself from the process of payroll and tax filings? We offer a fast and easy self-service online payroll platform, specifically designed for businesses who have between 1-49 employees.
What information do I need to set up my account?
You will need the following information to set up an account. If you don't have it all right now, don't worry! You can enter what you have, and finish the rest when you have it. Below is the a listing of ALL the information that will be needed before your first payroll can be processed. Feeling confused? You can call up your personal account rep and they will walk you through everything.

For your company:

Company's legal name, legal address and phone number

DBA name (if applicable)

Legal entity type (e.g., Sole Proprietorship, Limited Liability Corporation, etc.)

Owner's name, title and phone number

Bank account number and routing number, along with a voided check

This is the bank account from which you pay your employees, taxes, and payroll subscription fees.

Pay frequency (weekly, biweekly, etc.) and desired first check date

Federal Employer Identification Number (FEIN)

State ID Number.

401K Plan / Pension Plan Information

Health Insurance Info

HSA Plan Info

Voluntary Savings Program

Garnishment or Chid Support Information

For each of your employees:

First and Last name

Date of Birth

Social Security Number

Gender

Mailing address

Email address

Mobile number

Job title

Hire date

Bank account number and routing number

Copy of most recent W-4

Employee pay rate and pay type (salaried/hourly)
What features are included?
Our low monthly fee includes the following features:

24/7 access to PayDay, our simple to use, online payroll processing system

Payroll Processing

Direct deposits to employee account(s)

Collection and deposit of state and federal taxes on your behalf

Creation, filing and digital issuance of your payroll tax returns

Automatic new hire reporting to help you comply with federal and state reporting requirements

View payroll and tax reports online

Accountant Connect allowing your Accountant access to your account

Fully paperless delivery: All payrolls, reports and year end documents are available online

Online self-service portal for employees to view pay statements, W-2s, and manage their information

Paycheck Calculator that calculates taxes and required funds
How long will it take for my account to be ready to process my payroll?
The time will vary for each company on how long it take to verify your business information. Normally we are able to activate your account within a few hours. As soon as it is ready, our team will email you with confirmation that your account setup is complete.